PAY AT YOUR OWN PACE WITH OUR BUY NOW, PAY LATER OPTIONS. CHOOSE AFFIRM OR AFTERPAY AT CHECKOUT & SELECT THE PAYMENT PLAN THAT YOU LIKE BEST!

How would your dancer feel if she knew
EXACTLY
how to perform her best (even in high pressure environments), nail her auditions, overcome nerves, change her view of perfectionism, build her confidence & belief in herself, and accomplish her goals??

"Our ability to grow is directly proportional to an ability to entertain the uncomfortable." - Twyla Tharp

"Since starting mental performance coaching with Ms. Emily, I have been able to more efficiently and productively achieve my goals and pursue my dream of becoming a professional dancer. I never knew the impact coaching the mind could have on my dance performance. Using tools and strategies given to me during our time together, I am able to be more intentional and focused in my dance training. In competition and performance settings, I have a clear plan to approach my performance present, focused, prepared, and calm. Working with Ms. Emily has helped me learn mental skills and create a positive mindset that enables me to become a better dancer." - Ellery S.

Maybe your dancer…
Is riddled with nerves when it's performance or competition time

Performs beautifully in class, but doesn't perform to her full ability in auditions

Has built the belief within herself that she's "just not a turner" (or any other limiting belief)

Freezes at the mention of improv

Is a perfectionist and one of the most self-critical people you know

Has really big goals, but isn't sure she can actually achieve them

Wants to set herself apart from the other dancers in the room, but instead ends up comparing herself to all the other dancers in the room

Is coming back from an injury & feeling a bit hesitant or cautious
Maybe you…
Want nothing more than to help your dancer reach her goals, but aren't sure where to start

Know that focusing on the "outside things" (such as mindset, nutrition, cross-training, recovery, etc.) will give her the edge she's looking for

Want to feel confident that her performance anxiety isn't going to get the best of her while you're watching from the audience 

Want her to truly know just how beautiful and amazing she really is!



What if the solution is simpler than you think? What if your dancer
just needs the tools
to manage these situations??
Tangible tools & skills
to use in class, rehearsals, performances, competitions, auditions, etc. that allow her to
regain power
over the one thing that controls everything else…
HER MIND! 
"The ways in which Mental Performance Coaching has improved my relationship with dance are immeasurable. Emily has provided me with so many helpful skills that have helped better my performance on stage and in the classroom. These new skills have allowed me to be more confident, strong, and also relaxed in a way to present my best self and enjoy the process. The exercises provided through Mental Performance Coaching are not only helpful when it comes to the pressures of training and performance but also very helpful during day to day life." - Isabella T.

"Mental training has improved and changed my mindset completely. After an injury put me on the sidelines from ballet, I decided to work on my mental performance. I learned so many techniques for the mind that made my performance stronger and calmer. I was able to come back to ballet with more confidence, and now I have tools that I use everyday!" - Claire A.

Maybe you know the dance world is a challenging one & feel these difficulties are normal…only because you've never heard of mental performance coaching before.
Maybe you've thought she just needs to "toughen up"….except part of the problem might actually be how tough she's being on herself. 
Or maybe you have heard of mental performance coaching, but thought it was only something a dancer did if something was "wrong" or they were struggling with something….except the dancers who are training their minds are consistently outperforming others and achieving their goals!

Here's the thing though…
I've worked with so many dancers teaching these exact skills, and have witnessed SO many success stories!!
I've seen these dancers…
Go from feeling so nervous before performances, to managing their nerves and being fully present on stage
Go from feeling like they can't stop overthinking or comparing themselves to others, to knowing how to manage their thoughts 
Go from not being able to see their own talent, to understanding what they are truly capable of 
Compete on some of the biggest stages around the world and maintain their confidence the entire time
Earn scholarships to their dream ballet schools and summer intensives
Learn to step out of their comfort zone & find new styles of dance that they enjoy
Master new variations, solos, or even combinations in class, that they previously would've assumed were too difficult for them
Change their view of perfectionism and strengthen the passion they feel for dance
Return to the studio after an injury
There's nothing I love more than watching a dancer reach their goals & perform to their full ability while maintaining a healthy mindset along the way!

"Working with Mrs. Emily this past year at Champion Mindset Consulting has been a game changer for my physical and mental performance as a dancer. I came in feeling unsure of my capabilities as a dancer and less confident in myself, but I came out more confident and mentally stronger than ever. Thank you Mrs. Emily at CMC for helping me reach where I am now!" - Bella M.

This program includes:
Training to learn how to

shift & control her thoughts

in order to

use them to her advantage

 

Skills to teach her how to

calm any nerves & let go of unwanted tension

in order to

perform confidently 

Training to teach her to

use self-talk

in a way that is super effective, and doesn't sound cheesy or like something she'd roll her eyes at

Skills to help her

overcome perfectionism

& learn to

stop being so self-critical and sabotaging herself

Specific skills and routines to help her

prepare for competitions & performances

days in advance (

no more laying in bed stressing

about every piece that you're in)

Specific instructions to teach her

how to utilize

all of her mental skills in the studio & backstage

Step-by-step instructions to

create an effective pre-performance routine

(a "mental warm-up")

Skills to help her improve &

make progress more quickly
And so much more!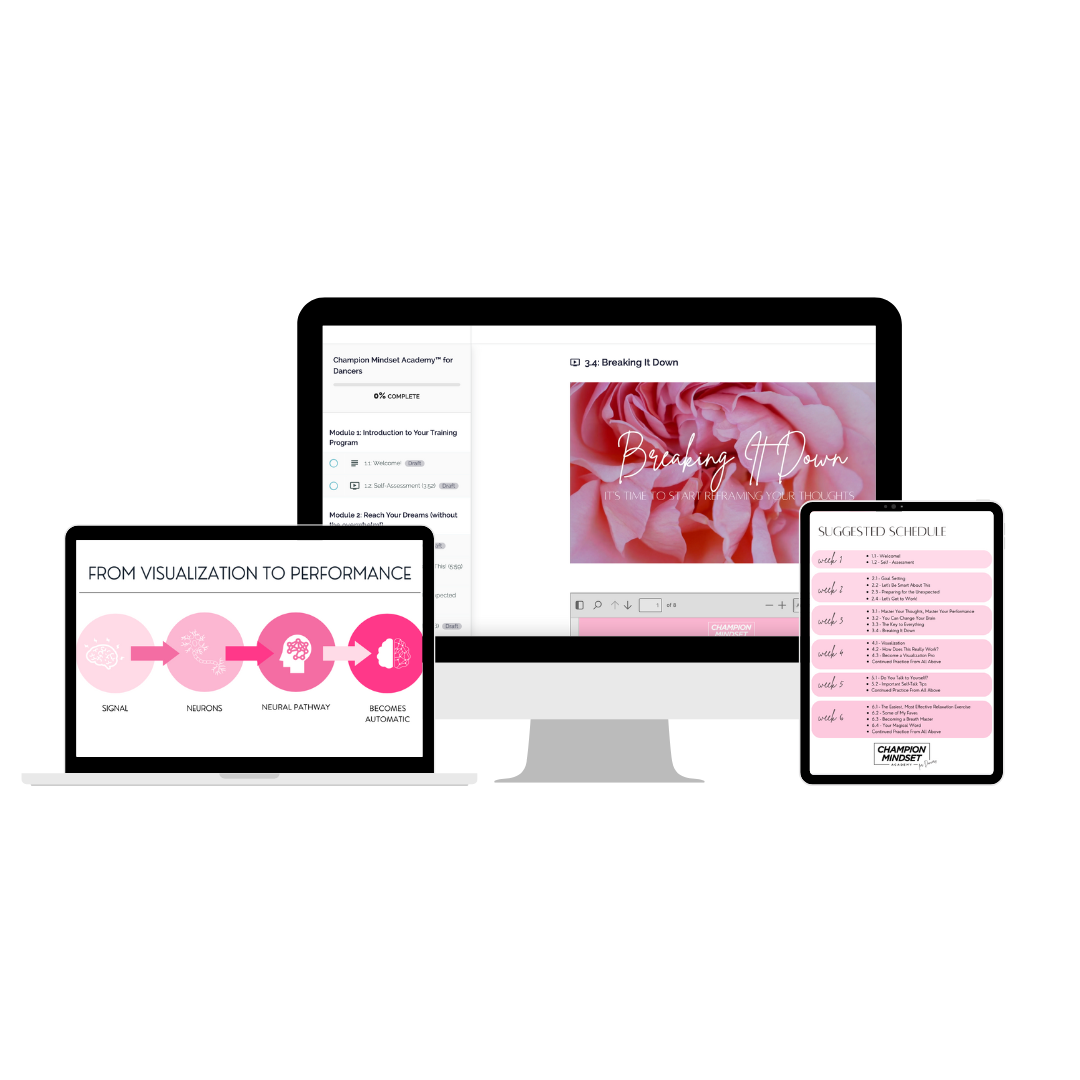 Introducing...
Champion Mindset Academy™ for Dancers
The step-by-step mental performance training program that turns serious dancers into exquisitely confident artists!

"Emily shared many tools to use both on and off the stage. These tools helped to relieve my stress and calm down my emotions. She was great at helping me find solutions if there was something I needed help with. Overall, I loved working with Emily and I thoroughly recommend her!" - Anonymous
Hi I'm Emily - your mental performance coach!

After I received my master's degree in sport & exercise psychology, I began coaching athletes (mainly dancers and gymnasts) to help them improve their performance with the use of mental skills. I grew up doing ballet pre-professionally, so I know firsthand how difficult and demanding the dance world is physically AND mentally.
Many dancers have a very "type-A", perfectionistic personality. They have really big goals, but are often super self-critical of themselves. Oftentimes, this comes from a good place - they have big expectations and are eager to achieve their goals. BUT what they don't realize is that the constant nitpicking is actually causing more frustration, slows their progress, and drops their confidence.
This form of training is non-negotiable for serious dancers, and while I believe group seminars regarding mindset are wonderful…I firmly believe that there is nothing that can replace, or be as effective as, individualized coaching. Mental performance coaching is something that I wish I had access to when I was dancing. My goal now is to make mental performance coaching accessible to all dancers!
This is why I've created Champion Mindset Academy™ for Dancers - the most effective, streamlined training program available on its own (for dancers who wish to be independent) or in combination with one-on-one coaching sessions (available in person or via video call)!

I can't wait to meet you! Let's get to work!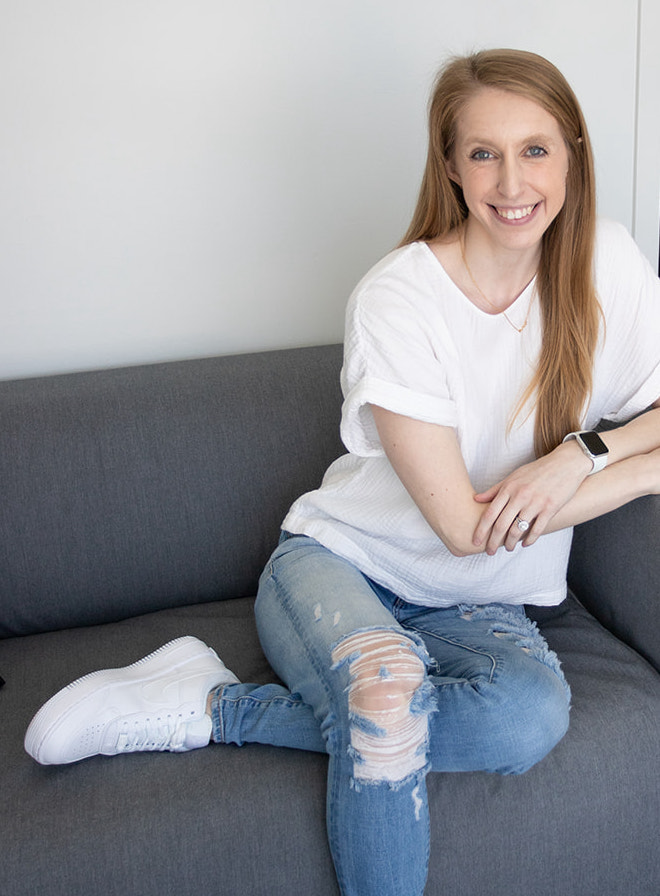 Champion Mindset Academy™ for Dancers is a self-paced, online training program. It's been created with convenience in mind for the busiest schedules & is a more cost-effective option as compared to one-on-one coaching! This program will take your dancer from constant stress, pressure, and underperforming….
To…
Feeling in control of their performances 
Setting herself up for success & achieving her goals
Knowing how to manage her thoughts and emotions 
Having the mental strength and stamina to overcome tough solos/variations/roles, teachers/directors, and situations
Consistently performing confidently 
Reaching her full potential

"Emily has made such a positive impact on me mentally. From the basic exercises and talking through thoughts and ideas, I have more control over my inner thoughts resulting in better dancing. Emily takes the time to discuss details that happened during the week and gives out great ideas to me to solve any hiccups I've had during the week, helping me learn how to map my way through things when something can be mentally challenging. I appreciate all the time Emily has dedicated to me and making me a mentally stronger person." - Keagan P. 

"Emily has worked with my daughter for a little over a year and has created a wonderful relationship with her!  My daughter is a ballet dancer and struggles with confidence and perfectionism that has at times inhibited her growth as a dancer.  Emily has been very helpful in her dance journey and instrumental in getting her into a better overall mindset with dance.  My daughter has felt tremendously comfortable with her and she has served as a grounding force and sounding board for her.  We are so grateful to work with her!" - Anonymous

By the end of this program, your dancer will have…
Learned many different mental skills and

how to implement

them in class, rehearsals, auditions, performances, competitions, etc.

Created a

pre-performance routine

/mental "warm up"

Learned how to

break things down in

class and apply her mental skills in order to perfect steps, combinations, variations, etc. efficiently

A plan of

how to approach performances and competitions

in the nights leading up to them

Lessened the overwhelm

and pressure she currently experiences & places on herself to

bring joy back

into what she loves



Who is this program for??
DANCERS! Recommended for dancers 12 years old and up. If a parent plans to assist the child, then younger dancers can begin the program as well. Not recommended for dancers younger than 10 years old.
Dancers who are serious about what they do and have big goals and dreams
Dancers who want to feel confident and present on stage
Dancers who are tired of overthinking and comparing themselves to others
Dancers who want to be a step ahead in setting themselves up for a successful dance career

FAQs:
What is Champion Mindset Academy™ for Dancers? 
Champion Mindset Academy™ for Dancers is the step-by-step mental performance training program that turns serious dancers into exquisitely confident artists. This training program includes 12 modules full of 30+ video lessons, worksheets, and other material that I use to teach the skills they need to master in order to control their mind, and in turn, control their performance. I've also included a self-assessment so that the dancer can monitor their progress.
What is Mental Performance Coaching? 
Mental performance coaching is, in short, the most effective form of performance enhancement. Through mental performance coaching, the dancer learns many different mental skills which allow her to consistently perform her best, reach her goals, master new steps/variations, prevent and/or overcome mental blocks, manage her thoughts and emotions, and more! Mental performance coaching takes her dancing to the next level.
Who is this program for? 
In order for the dancer to understand the concepts and skills, I recommend this program for dancers age 12 y.o. and up. However, if a parent plans to be present & assist the dancer with the program, then younger dancers may participate (even still, I still would not recommend it for dancers younger than 10 y.o.). 
How long before my dancer starts seeing results? 
Every dancer's situation is different. However, on average I would say that if the dancer is consistently putting the time and effort into their training and practicing the mental skills, they could begin seeing changes within a few weeks. 

The dancer must commit to learning and practicing all of the mental skills taught in the program. These are skills and they take practice just like everything she does physically in class each day. If the dancer is not taking the time to practice & implement the skills, they will not see the results they are looking for. Simply watching the lessons in the videos will not cut it. I've provided a suggested schedule in the program to keep the dancer from rushing through the videos, and instead, take their time practicing & utilizing all of the skills for best results. 
How long do I have access to the program? 
Once you buy the course, you have lifetime access, which means your dancer can go back and revisit lessons whenever she needs a refresher! You will be grandfathered into any and all updates (no price increase for you!). 

When does the program start and finish?
The program starts as soon as you start and never, ever ends! It is completely self-paced, and the skills are ones that will be utilized for the entirety of your dance career.

Is there a payment plan option?
Yes! You can pay at your own pace with our Buy Now, Pay Later options. Choose Affirm or Afterpay at checkout & select the payment plan that you like best!

The use of this course is solely for the individual purchaser. With your purchase, you agree not to share, copy, redistribute, or modify any part of this training program. Any form of sharing, copying, redistributing or modifying will result in immediate termination from the program without refund. 
Please see 'Terms of Use' for more.

Questions? Contact us at [email protected]


"Emily with Champion Mindset Consulting is incredible. If you have a competitive Athlete that needs that extra edge this can make the difference. The skills that Emily teaches are not only applicable to the sport but will be life long skills. We are so grateful to have found CMC!" - Dianna B.

Refund Policy:

I am SO confident that you'll love this program...I guarantee* it!
If you are unhappy with the program, you can request a refund within 14 days of purchasing.
*But remember, this program will teach your dancer all she needs to know. SHE is the one who has to do the work, practice the skills, implement them, etc. All I ask is that you send proof that your dancer implemented the required work & still saw NO improvement, and I'll refund you!